Oldboy: 10 years later
oldboy • movie • south korea • personal • growth • life • change • italy • uk • night
505 words
It was 10 years ago. A night just like this one. Winter. Everyone in the house was asleep. Well, Leonardo isn't really sleeping right now but you get the idea. I was alone in the kitchen. Alone with the TV, an .avi file and an .srt file.
I had just started watching movies in foreign language and during the week I had stumbled upon Old Boy. I wasn't really in the mode of staying up late, but something made me.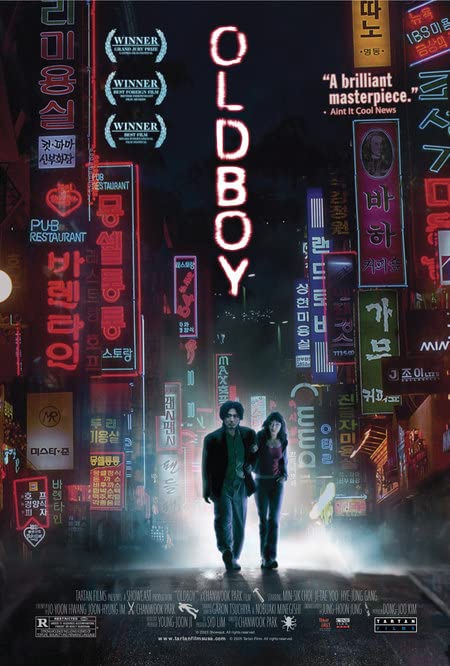 Oldboy (Korean poster)
The title was in English: how was I supposed to know it was a movie from South Korea? I know, I was very naïve.
I remember being captured very quickly by the story. It was intriguing, cruel, nightmare-ish. Just the kind of stuff that tingles me. The main actor, Min-sik Choi, looked a lot like Jackie Chan, but much better at acting.
I just finished watching it again. Now I got a .mkv, and the subtitles are a track in it, but the greatness of this movie comes back to mind.
Luckly I had almost entirely forgotten the story, so I have enjoyed it all over again. But it's funny: 10 years later you see new details - you notice new scenes, new details you had missed, new characters even. I had totally forgot about the way he gets released and the first guy with the dog that he meets once he is back in the world.
Same exact movie: what is changed is me. In 10 years SO MUCH has changed. 10 years ago I had not met yet my lovely wife. I knew I wanted to leave the limiting life of the south of Italy, but I didn't know I could actually do it. I didn't know that the next time me and this movie would meet, I'd be living a completely new life. With a beautiful wife and a beautiful son - my own little family that is just starting.
Every New Year's Eve I look back at the year, make a mental list of what changed, "where am I now". I enjoy thinking that, next year, I'll be somewhere else again with my life. How exciting!
Maybe in 10 years, 2023, I should find again this long lost friend of a movie, and watch it again. What the hell! I will definitely do that. Let's just hope I don't change too much and forget to do it.
Maybe in 10 years, my son will join me. Well, he will be 10 and this movie will be probably too "gruesome" for him - let's say he will have to wait 20 years instead…
Time. You bastard. How do you go so fast?
P.S.
Yes, I know that Spike Lee's "new" Oldboy has just been released, but that's an almost total coincidence. I'm going to eventually watch this USA edition, but I don't expect it to make me happy - remakes are usually badly executed. Still, the actors involved are very good so I don't expect to be disappointed either.